Trends in Healthcare for 2023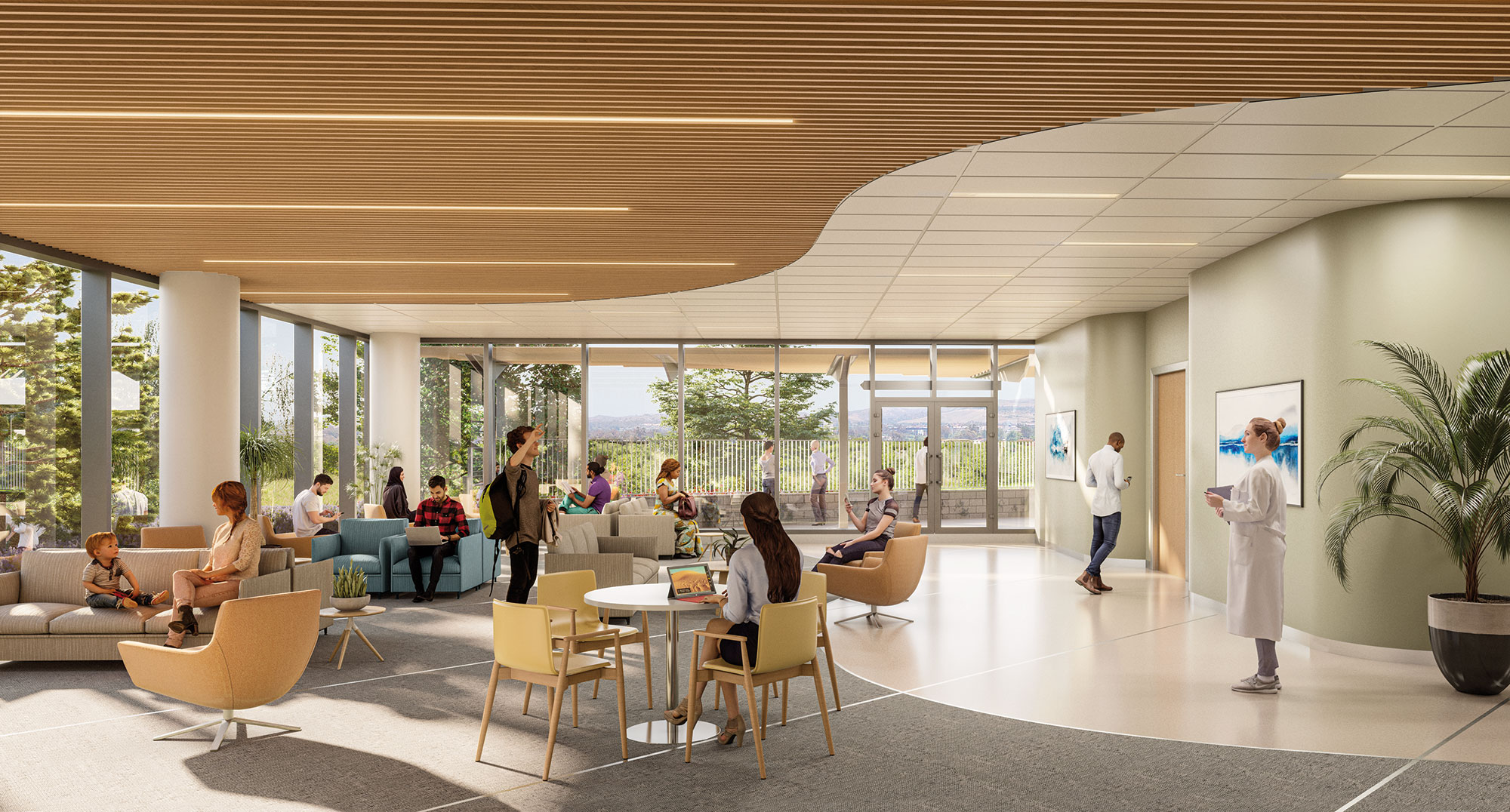 By Gina Chang

As we embark into 2023, it is a great time to reflect on the past year and the trends affecting the healthcare industry today. The Advisory Board's State of the Industry webinar discussed many market disruptors causing transformation, which include global stressors, demand volatility, vertical ecosystems and innovation investment.  

How do these market disruptors affect the trends in healthcare? Some trends we are seeing include a renewed focus on health equity, staff recruitment & retention and innovation in technology. Currently in construction, CO's forward-thinking design of the UCI Medical Center Irvine supports industry change and is prepared to accommodate future evolution in healthcare. Below we'll touch on some of the trends and showcase spaces in the new UCIMC that support them.
Health Equity
Health equity is a central mission of healthcare, and the industry is beginning to build it into a business imperative. The COVID-19 pandemic uncovered many inequalities in access to healthcare impacted by factors such as economic stability, education, access to food and living environment. It is vital for new and existing healthcare facilities to help break down barriers to care. CO puts diversity, equity and inclusion factors at the forefront of design concepts. Our process dives deep into universal design, not just ADA compliance, and improving access for all. We explore the different ways that people experience their environments, as well as human-centered, evidence based design characteristics that affect most human beings in the same way. 
Natural Light and Access to Views
The UCI Medical Center is filled with natural light, and every long-term patient space has a prime view. There are days when infusion patients feel like socializing, and days when they feel like privacy. Some amount of control and choice is important when so much is out of your control. The infusion bays are designed with windows for maximum views to nature, while maintaining visual separation between patients and providing individual audio speaker and lighting controls. For socializing, there is a large family lounge in the unit, with access to an outdoor terrace, allowing them, when possible, to take their treatment in the fresh air with views to the adjacent natural preserve.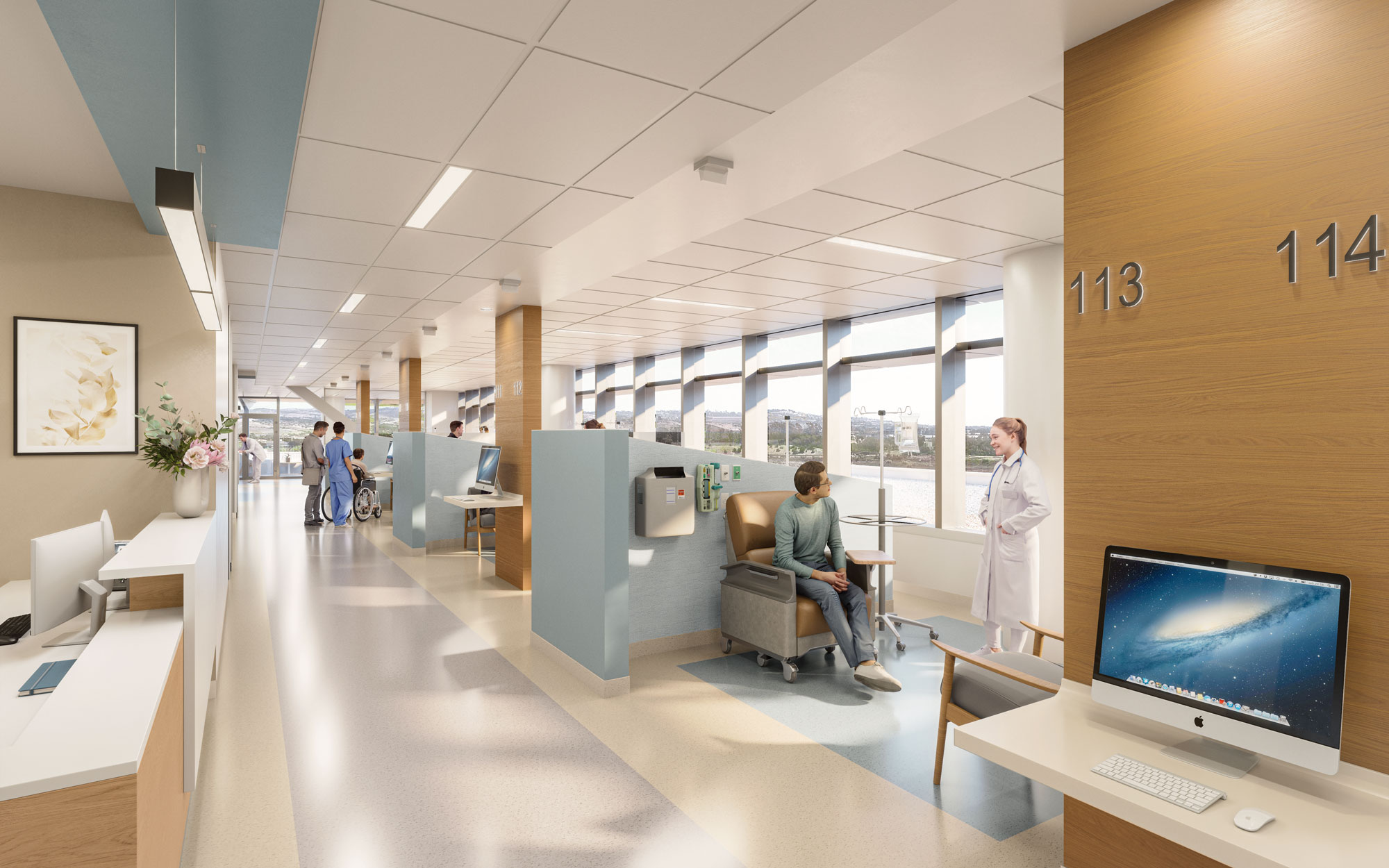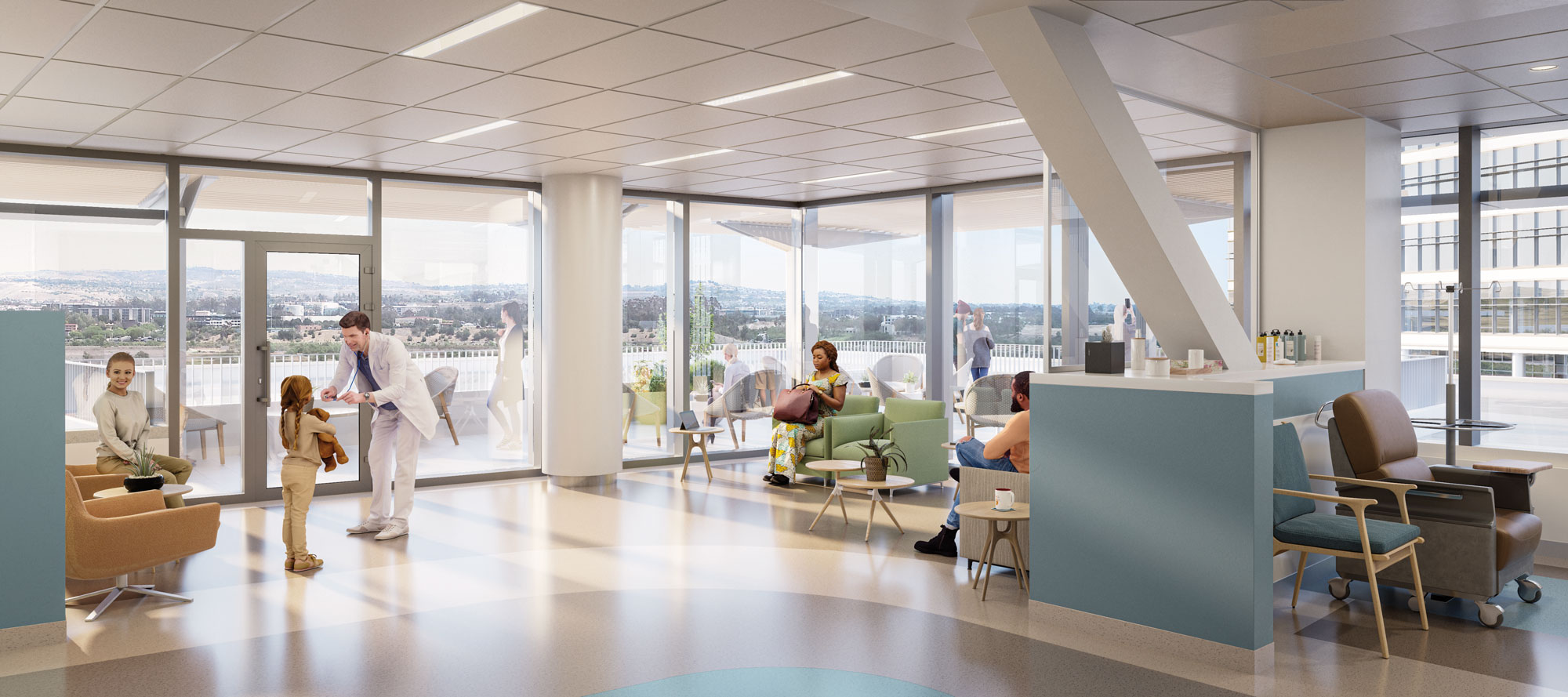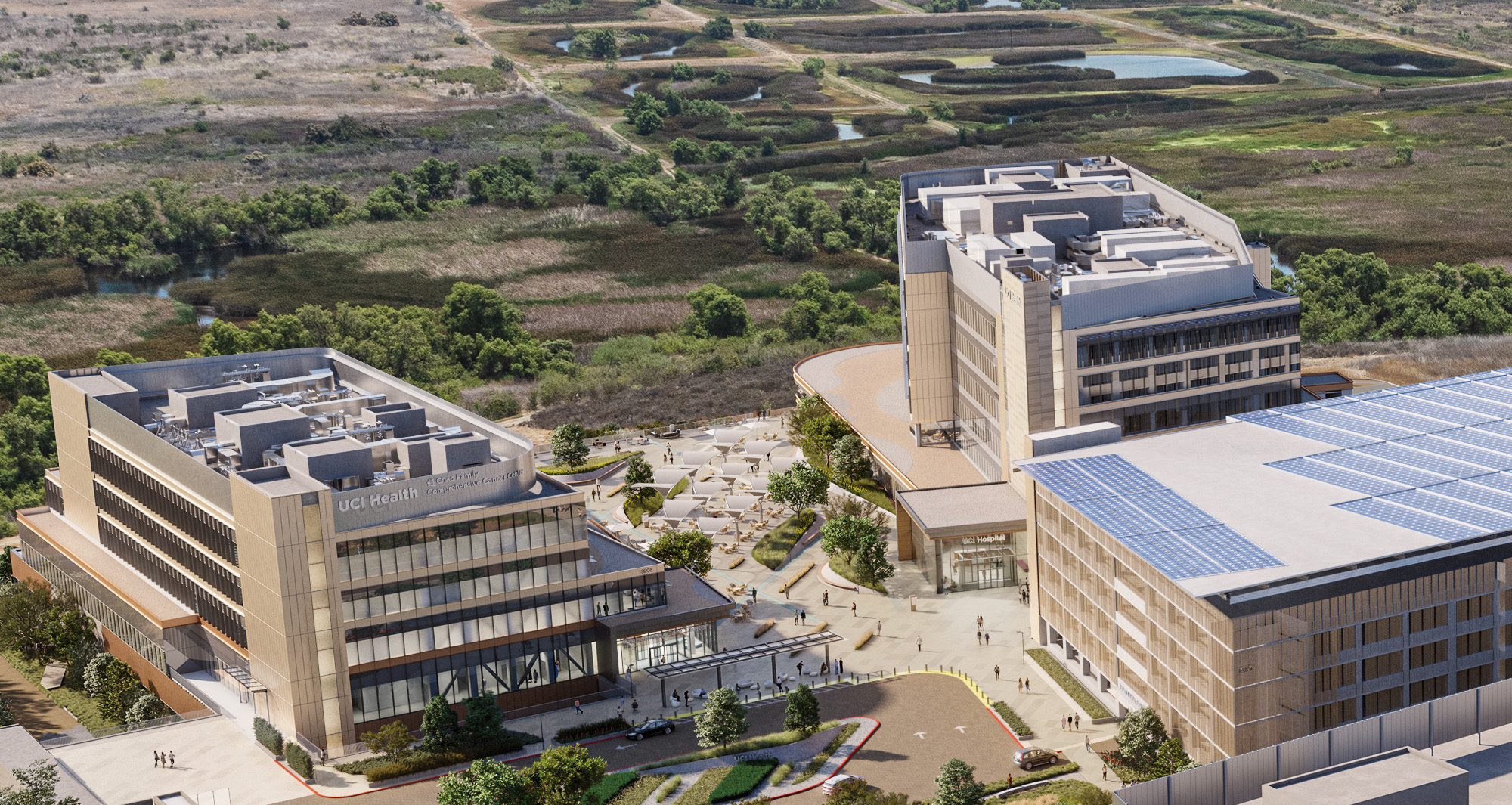 Community Spaces
Facilitating Access to Health
The Events Plaza is situated between the Hospital and the Ambulatory Care Center (ACC). It is designed to host community activities such as healthcare education or fairs, academic symposia or pre-event gatherings, farmers' markets, wellness activities and al fresco dining. It invites patients, families and community members to access care in a familiar and informal way while reinforcing the value proposition of the academic medical center's research and teaching backbone. Located in the Events Plaza is a meditation garden, connected to the interior meditation room, providing peace to all denominations.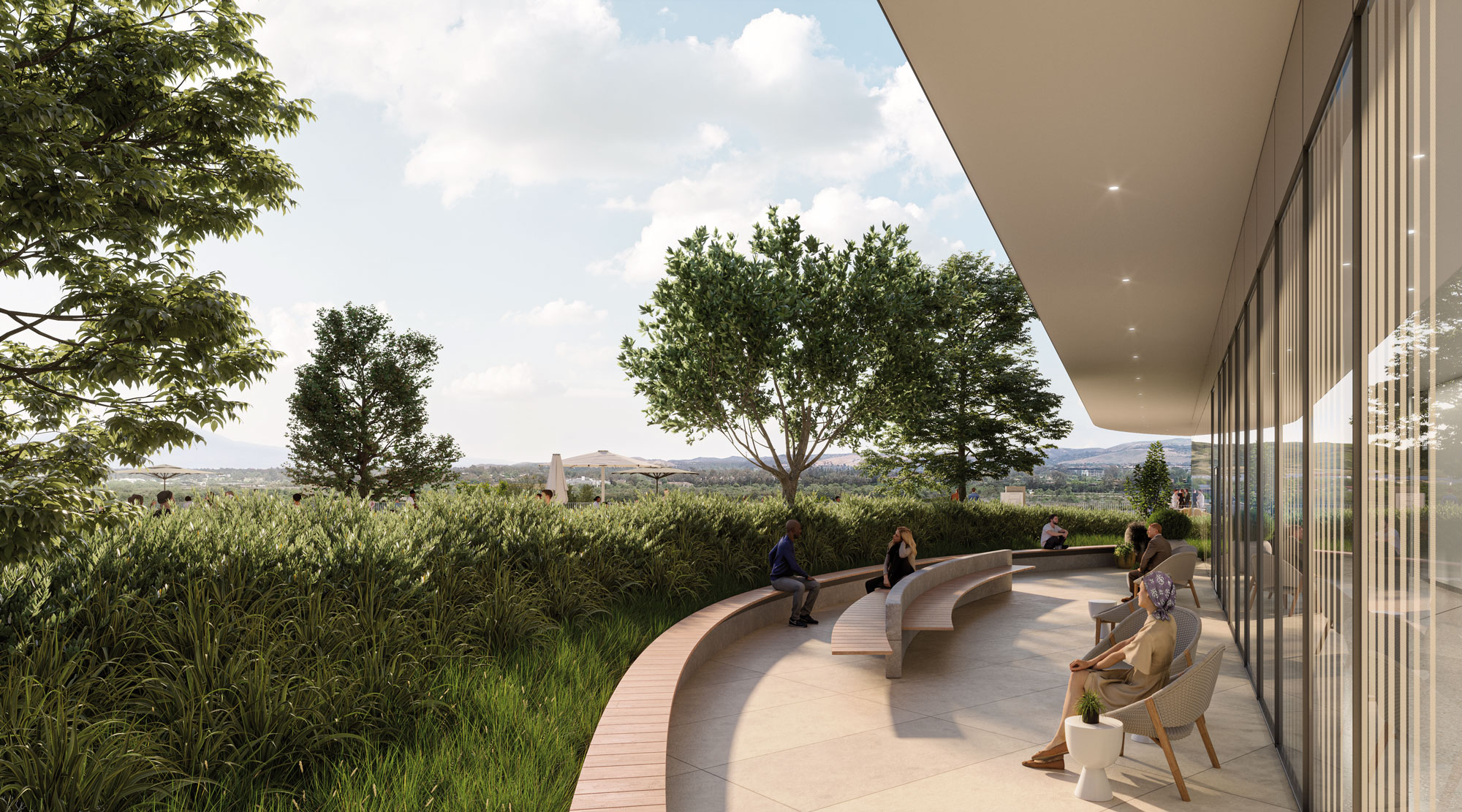 Staff Recruitment & Retainment
Due to the COVID-19 pandemic and Great Resignation, many industries are facing increased turnover, burnout and competition for talent. Prioritizing staff recruitment and retention has become a top priority for many healthcare clients. The industry is seeing a trend towards modern-workplace inspired spaces to collaborate, and spa-inspired spaces where staff can relax and rejuvenate from the demands of healthcare work. An elevated staff experience will attract the best talent and partners to the UCI Medical Center. Each nursing unit has robust care team collaboration workspace located centrally within the unit, including multipurpose rooms, huddle spaces and phone rooms. Staff lounges and lavender rooms take the best real estate on the floors, with unencumbered views to the San Joaquin Marsh.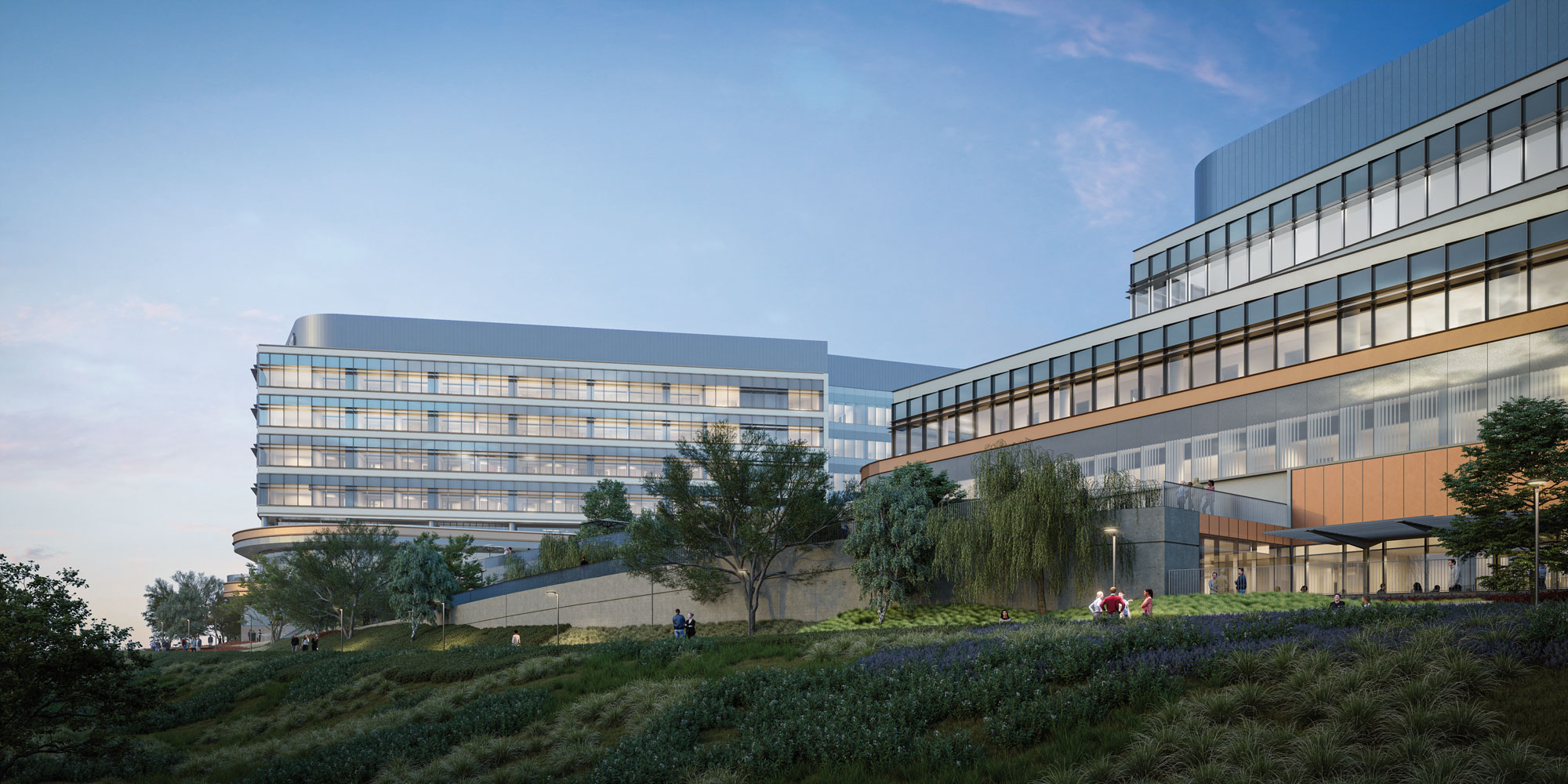 The third floor of the hospital is restricted to staff-only departments and spaces, including staff lounges, on-call rooms and a terrace. With physician and nursing burnout and shortages rising, abundant outdoor areas of respite by the marsh provide much needed relief from the daily toll of providing care. Ability to commute to the main UCI campus by foot or bike through trails in the natural preserve also provide staff the connection to nature and rejuvenation needed to deliver transformative care.
Digital Innovations
During the pandemic the healthcare industry saw a rapid increase in telehealth appointments due to the convenience and accessibility. Telehealth offers universal efficiency in delivery and management – from telemedicine visits to provide convenient access to health, to online platforms which coordinate electronic records and patient communication, and to wearable devices to maintain health and wellness. With the rise in virtual appointments, our projects have started to incorporate dedicated telehealth space within the clinic close to the providers. Care team work areas in both the ambulatory and hospital buildings at the new UCI Medical Center include soundproof telehealth booths equipped with flexible furniture, making it easy for providers to integrate this new functionality into their work schedules.